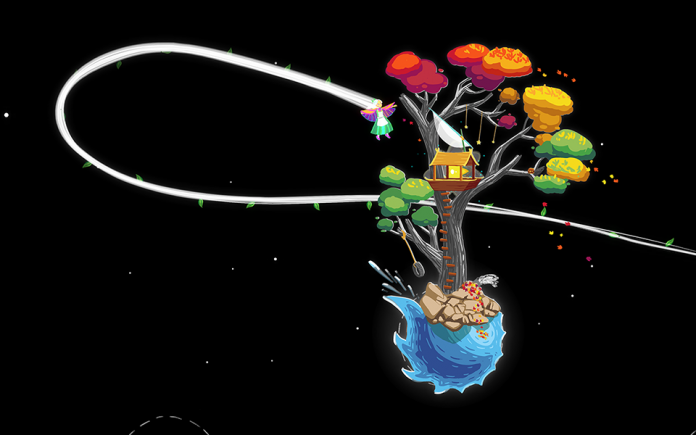 Can't see the video? Watch it here!
Gravity Ghost: Deluxe Edition is now available on PS4 with exclusive new content. In this soaring tale, the ghost of a lighthouse keeper's daughter searches the galaxy for her lost friend, the ghost fox. She'll turn the whole universe upside down to find him, but the story she uncovers just might be her own.
Set in a beautiful hand-painted world, Gravity Ghost is a planetary platformer where orbiting is an art form. In more than 100 dizzying levels, put aerial skills to the test against planets that bounce, break, splash, spin, repel, and more. Peaceful gameplay, smooth controls, and unusual gravity mechanics defineGravity Ghost as an emotional, relaxing experience that will whisk players away for hours.
Animated in a charming hand-drawn style, and voiced by Emmy Award-winning actress Ashly Burch (Horizon Zero Dawn, Life is Strange), and Logan Cunningham (Bastion, Transistor), Gravity Ghost is a surprisingly human story about how love, like gravity, invisibly holds us together even as life threatens to pull us apart.
Gravity Ghost: Deluxe Edition is the definitive version of this critically acclaimed indie platformer. The PS4 version includes a new constellation with 13 brand new challenge levels, and a new playable character (Voy the ghost fox).