If you're a gamer in Manchester and the surrounding area then get yourself down to the Northern Quarter this Wednesday night!
Manchester Gamers Unite meets monthly to connect video-game enthusiasts with those that work in the industry. The non-profit organisation hosts monthly events at Dive NQ, filling the bar's TV screens with pre-release video games currently in production and the next one will be on Wednesday evening from 6pm.
The games showcased at the event are created by game studios of all shapes and sizes, from one-man operations juggling their passion projects on top of full-time jobs, to globally renowned "triple-A" publishers such as Sony and Ubisoft.
Manchester Gamers Unite has grown rapidly since its inception in 2016, when it was founded by Stephanie Staszko and Simran Whitham. The first event attracted around 50 people and centred around gamers meeting to play video games. Now, the community's aim has evolved to connect video game creators with players, allowing designers and developers to receive invaluable feedback about their game at various stages of its creation.
Over 150 gamers, students and industry professionals turned up to the last meeting on Thursday 25th January, where Ubisoft showcased their much-anticipated new title, Far Cry 5. University students undertaking TV and film production courses also came to film the event and interview attendees, whilea number of games-industry journalists turned up to cover the event and live-tweet.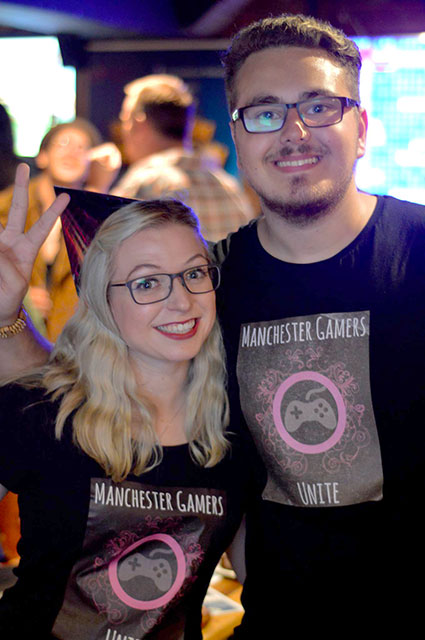 A community that grows together
Simran Whitham, co-founder of Manchester Gamers Unite, studies video games design at FutureWorks University-launched video game studio, Tri-Heart Interactive, along with his fellow students. The team showcase their work at Manchester Gamers Unite every month and use the feedback they receive from the community to shape the ongoing development of their game.
Simran says: "Tri-Heart's ethos centres around community-driven development, something which other video games studios are also exploring.
"Steph and I started Manchester Gamers Unite as a gamers' community, but we quickly realised that there was a huge gap in the market for a regular event that connects that community with game developers directly.
"Now it provides a free platform for developers to engage with gamers directly on a regular basis, and also gives gamers and journalists the exclusive opportunity to play games before they have been released."
The next Manchester Gamers Unite will be held at Dive NQ this Wednesday, 28th February 2018. Confirmed publishers and studios include Sony, Silo Black Games, Tri-Heart Interactive and OddBug Studio. Anyone who wants more information or any developers wishing to showcase their game at future events are urged to contact Steph and Simran through the MGU Facebook page.